Experiential Activities
Drug & Alcohol Addiction Treatment in Midway, Utah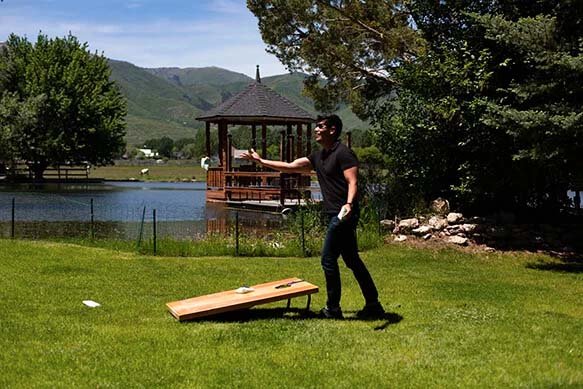 While evidence-based addiction therapy services provide a solid recovery foundation, our experiential and holistic programming is just as vital to healing. Thus, the goal of Experiential Activity at Acqua Recovery is to help residents learn and practice healthy interpersonal skills and activities you can enjoy in your new sober life through experiential outings along the Wasatch Back and in the Salt Lake Valley. We reintegrate into the community through team activities like sober volleyball and softball leagues and engage in daily physical activity including, yoga and fit-to-recover.
Experiential Activity teaches people how to manage emotions, be mindful, and practice better life skills in a controlled environment. We let residents experience new ways to enjoy sobriety and re-integrate into a community. Further, there is a huge connection between physical health and mental health. When either of these is lacking, it can impair mood, increase depression and anxiety, and put someone at risk for relapse.
Holistic Activities for Physical Health
When you feel good physically, you have more energy to make smarter decisions. Also, you are better equipped to address issues coming along with addiction. Being active and involved in team activities during and after treatment is an opportunity to connect with a sober environment. As well as a community supporting healthy lifestyles. This in turn increases your quality of life and well-being.
Frequently Asked Questions
What Is Holistic Drug or Alcohol Treatment?
Holistic alcohol and drug treatment is an approach that considers the whole person. In addition to traditional, evidence-based treatments like group therapy and cognitive-behavioral therapy, a holistic program might include exercise, nutritional education, acupuncture, yoga, and experiential activities like camping.
All of these therapeutic techniques are combined to promote wellness in every aspect of a person's life. Holistic therapies are available in residential addiction treatment centers and outpatient addiction treatment programs.
What Are the Benefits of a Holistic Treatment Approach?
The biggest benefit of holistic drug and alcohol treatment is that it addresses all the ways addiction has impacted a person's life. Some treatment methods only focus on the symptoms of addiction.
A holistic approach is designed to help people in achieving sobriety goals related to career, education, and building healthy relationships.
Holistic alcohol treatment and holistic drug treatment seek to consider the needs of the whole person, including their mental, physical, social, emotional, and spiritual health.
This more inclusive approach provides the best chance for maintaining long-term recovery because it addresses every aspect of a person's life.
What Are Some Examples of Holistic Healing?
A holistic approach to drug addiction treatment is customized to meet each person's unique needs. While every plan may be different, it will likely include several different addiction treatment types, such as nutritional counseling, family therapy, life skills, and art or music therapy.
Developing a mindfulness practice is also an important element of holistic therapy. Learning to keep a personal journal or to practice daily meditation may be encouraged as well as participating in outdoor recreational activities either alone or with others.
Does Physical Activity Help Alleviate Drug or Alcohol Dependency?
Yes, physical activity helps to alleviate dependency in many ways.
Exercise relieves stress and promotes the production of endorphins — "feel good" chemicals that become imbalanced with drug use. Exercise can help minimize cravings as well as reduce withdrawal symptoms like depression and anxiety in those who are seeking treatment for drug or alcohol addiction.